On June 17th, inDICEs signed a Memorandum of Understanding with reCreating Europe, an initiative funded under the same DT-GOVERNANCE-13-2019 call for the European program Horizon 2020. With a common interest in the creative sector and the analysis of regulatory frameworks, the agreement marks the occasion for an exciting collaboration between both research projects.
Who is reCreating Europe?
reCreating Europe is a research project that aims to develop ground-breaking contributions towards a clear understanding of what makes a regulatory framework that promotes culturally diverse production and optimizes inclusive access and consumption. The project team is working on developing strategic recommendations, enriched by good practices, with the aim of strengthening the sustainable development of the cultural and creative industries. The work is based on analyzing the needs of five key stakeholder groups: authors, creative industries, cultural institutions, intermediaries and end-users. The project also aims to conduct legal and technological mapping of trusted platform modules and content-filtering algorithms as well as offer policy recommendations and best practices.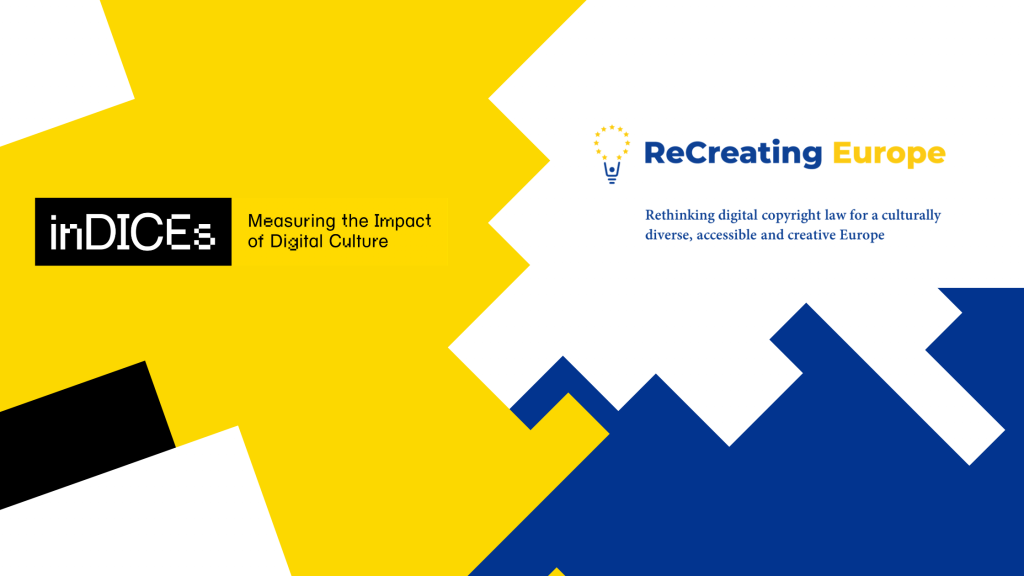 Collaboration
After identifying a series of sectors as a potential ground for cooperation, members from both projects selected a number of activities for future cooperation. Some of these are:

Coordinating efforts to map and analyse copyright flexibilities and regulations on the access to European culture on creative cultural production in selected European countries (Italy, Netherlands, UK, Germany, Ireland, Estonia, Denmark and Hungary). 
The creation and promotion of surveys among cultural heritage institutions to gain relevant data to shape joint recommendations and best practices for policy-makers and the cultural and creative sector. 
Collaborate in outreach activities and organise joint events and training activities (workshops, conferences, webinars) on legal aspects related to digitisation for selected stakeholders in the GLAM sector.
Next stop: Our first workshop!
After signing the agreement, both projects have started preparing their first joint event: an online workshop set to take place in September 2020.  Sign up to our newsletter and be among the first to receive all the details of our upcoming workshop.

Cover image: L'Assemblée Nationale, James Gillray, Kunstbibliothek, Staatliche Museen zu Berlin. CC BY-NC-SA 4.0